Churchill
"He piled upon the white whale's hump the sum of all the general rage and hate felt by his whole race from Adam down; and then, as if his chest had been a mortar, he burst his hot heart's shell upon it."
Herman Melville (Moby Dick)
We have been trying to find the Churchill sign since we first did the rest of the East Hills several weeks ago. We drove cross-sections through it every which way, winding up in Penn Hills, Wilkinsburg, Forest Hills and Chalfant to no avail. Most of the time we had no real indication whether or not we were actually in Churchill. Is Woodland Hills High School in Churchill? One would think, since it is the old Churchill high school. Is Edgewood Country Club in Churchill? I thought it was. Still, no signage.
The only sign we ever saw was this one in front of the borough building. Every time we saw it there was a Churchill cop sitting next to it in his vehicle. Mind you, our activities are certainly not illegal. But taking pictures of a borough building at night with a cop present just seems a little dubious.
Finally we decided enough was enough, we were taking that borough building. With the lighted sign the image was bound to be poor. With the location, we were bound to seem suspicious. But we'd had enough. It was time to harpoon that white whale. And so we did, blurry and unpresentable as he may seem, we hurled his spent carcass onto the pile of other kills we had achieved that evening.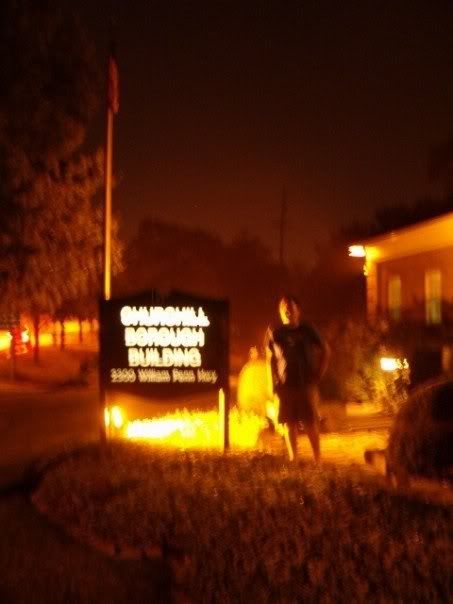 page revision: 1, last edited: 26 Jul 2007 19:53